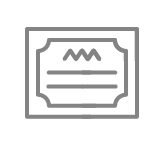 Career Diploma
Command a Higher Salary Fast by Earning a Career Diploma
While getting an education is always the right thing to do, traditional degrees aren't always the best fit. However, there are options for those who have a specific job in mind, and want to get to work doing it right away: the career diploma. These may also be referred to as a certificate of completion or a certificate of achievement. They can usually be completed in a year or two, though some only require a few weeks of study, making them an efficient path to employment opportunities.
Career diplomas are awarded to those who finish postsecondary vocational training or technical training at an accredited institution. They differ from college degrees in many ways, one of the most important being that they do not adhere to the general education and liberal arts requirements of colleges and universities. The classes are geared specifically toward getting a person to work in a pre-determined role, and fast.
Traditional classroom training is balanced with hands-on learning and real-world experience. A quality vo-tech school will have agreements established with companies and business owners that will give students internship and apprenticeship options, providing real-world context to the education being provided. Job placement assistance is usually a top priority for the administrative office at a vo-tech college – look for statistics that show how many graduating students find gainful employment within a month or two of graduation.
These are some of the most common fields in which a person might be required to earn a career diploma, or simply benefit from having one:
Technical & Industrial:

Home inspectors are professionals who assess the livability of a residence, and play a crucial role in the real estate industry. Our country's economy would literally grind to a halt without diesel and heavy equipment technicians. These are just two examples of career diplomas offered in this field. Courses include inspection procedures and electrical systems. While the aspiring home inspector will find online options for their education, hands-on careers will have to attend a traditional brick-and-mortar school.

Health Care:

Would you like to learn how to assess and resolve operating room complications? A career diploma in surgical technology might be for you. Pharmacy technicians assist pharmacists by dispensing prescriptions and medical devices to patients while explaining their uses, and also performing admin duties. Coursework is likely to include medical terminology and pharmacology. While online learning options exist, these will likely be blended with in-school requirements.

Business:

Payroll clerks, accounting clerks, and office managers ensure the day-to-day operations of companies across the world stay on target. Titles of career diplomas include accounting assistant and business management, and include classes on payroll accounting and business mathematics. Online options abound for these learning programs.
Career diplomas provide an affordable way for people to change their employment prospects and command a higher salary in a reasonably short period of time, and have been the starting point for many fulfilling career paths.
FIND COLLEGES FOR CAREER DIPLOMA
2 schools found
Online

Campus

1701 W Ben White Blvd. Suite 100 Austin, TX 78704

Private For-Profit

14 Programs

5 Online programs

Campus

1485 Florida Mall Ave, Orlando, FL 32809

Private For-Profit

10 Programs

0 Online programs